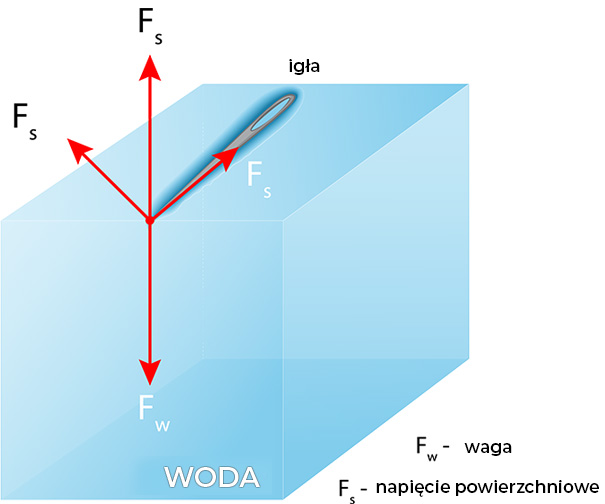 Czy zastanawialiście się kiedyś, dlaczego po powierzchni wody biegają pajączki i nigdy nie toną? Wszystko dzieje się za sprawą tzw. napięcia powierzchniowego czyli sił, które utrzymują cząsteczki wody w jednym skupisku. Wystarczy do wody dodać surfaktant, który obniży napięcie powierzchniowe, aby wspomniane pajączki zaczęły tonąć.
Napięcie powierzchniowe można porównać do naczynia, które ogranicza wodę ze wszystkich stron. Jeżeli obniżamy napięcie to to naczynie staje się coraz bardziej elastyczne.
Inaczej zachowa się wodą trzymana w plastikowej butelce a inaczej np jeżeli nalejemy ją do balonu. Taki balon to dla wody odpowiednik niskiego napięcia powierzchniowego.

Napięcie powierzchniowe, a proces mycia
Aby woda była skutecznym środkiem myjącym musi mieć zdolność zwilżania powierzchni czyli dotarcia do każdego mikro zakamarka. Wysokie napięcie powierzchniowo to uniemożliwia. Aby woda zaczęła myć musimy doprowadzić do obniżenia jej napięcia powierzchniowego, ponieważ wraz z jego spadkiem napięcia rośnie zwilżalność wody czyli jej zdolność do penetracji powierzchni jako podstawowego czynnika wpływającego na mycie. Jeżeli odpowiednio obniżone zostanie napięcie powierzchniowe i woda dotrze w każde miejsce, to rozpoczyna się właściwy proces mycia i surfaktanty zawarte w wodzie (w roztworze myjącym) otaczają, odseparowują i usuwają cząsteczki brudu z mytej powierzchni.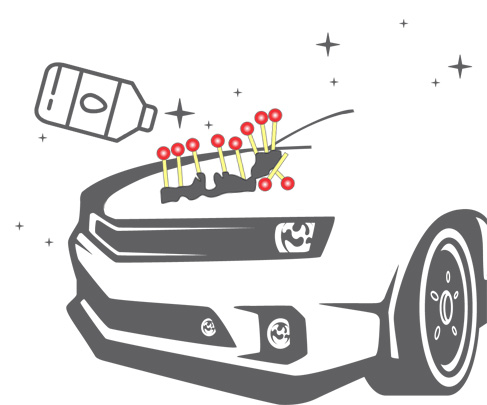 Surfaktant
to jedyny element, który może obniżać napięcie wody, ale w procesach mycia pojazdu musi być to surfaktant działający błyskawicznie ponieważ ma do wykonania dwa zadania: obniżenie napięcia/zwilżenie powierzchni oraz mycie. Pierwszy proces musi się odbyć natychmiast po dotarciu płynu myjącego na auto (niezależnie czy w formie piany czy roztworu/mgiełki) najlepiej 100-200 milisekund. Potem kilkanaście sekund na procesy neutralizacji cząsteczek brudu.
Do badania zjawisk powierzchniowych używamy dwóch zasadniczych urządzeń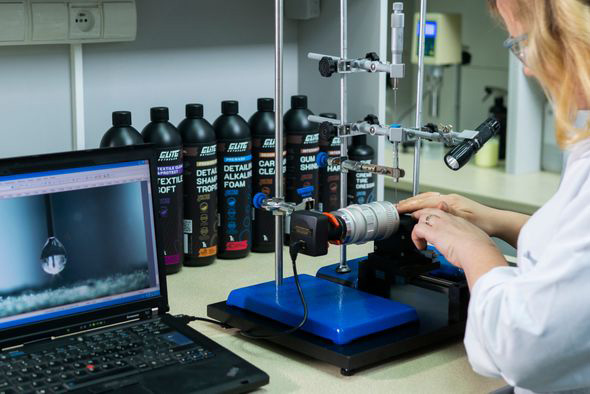 Goniometr optyczny
– do badania kąta zwilżania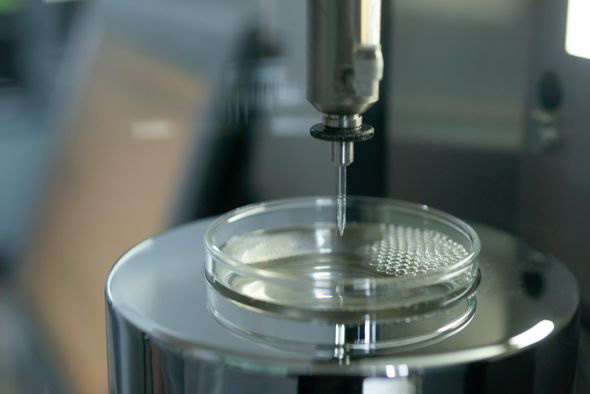 Tensjometr BP100
– do badania dynamicznego napięcia powierzchniowego
– mierzymy w jakim czasie wybrany surfaktant jest w stanie obniżyć napięcie powierzchniowe do oczekiwanego poziomu
Oba urządzenia znajdują się na wyposażeniu laboratorium firmy ProElite i służą badaniom zjawisk powierzchniowych w kontekście mycia pojazdów.