Zjawiska fizykochemiczne
Ideałem byłoby zmywanie zanieczyszczeń samą wodą.
Niestety nie jest to możliwe.
Wewnątrz cieczy, w tym przypadku wspomnianej wody, istnieją siły przyciągające, które wiążą cząsteczki wody ze sobą. Możemy to zaobserwować na przykładzie spadającej kropli deszczu. Stosując chemiczną terminologię powiemy, że woda posiada napięcie powierzchniowe. W praktyce to właśnie siły napięcia powierzchniowego nie pozwalają wodzie być efektywnym środkiem myjącym. Gdy polejemy wodą brud na tkaninie, jej cząsteczki mają tendencję do łączenia się ze sobą zamiast z hydrofobowym zabrudzeniem. Stąd też do roztworów wodnych dodawane są tak zwane środki powierzchniowo czynne, potocznie nazywane surfaktantami.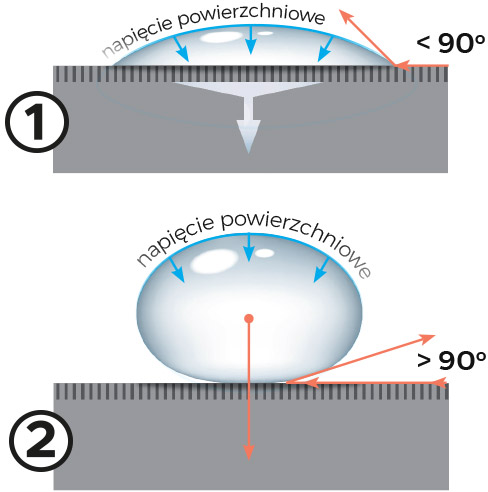 Surfaktanty zmniejszają napięcie powierzchniowe wody.
Zbudowane są z dwóch części:
1. HYDROFILOWEJ, czyli "lubiącej wodę"oraz
2. HYDROFOBOWEJ "nielubiącej wody".
W wodzie układają się w taki sposób, że zanurzone są częścią hydrofilową, a częścią hydrofobową wystają ponad powierzchnię wody. Efektem zmniejszenia napięcia powierzchniowego jest zwiększona zdolność do zwilżania powierzchni hydrofobowych m.in. zanieczyszczenia. Ich działanie myjące polega na wnikaniu między cząsteczki wody a brud, łącząc się zarówno z wodą, jak i z zabrudzeniem. Częścią hydrofilową surfaktant przyłącza się cząsteczki wody, natomiast częścią hydrofobową łączy z cząsteczką brudu. W efekcie następuje oderwanie brudu z mytej powierzchni.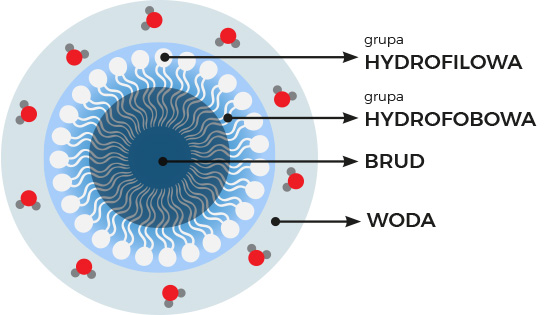 Następnie cząsteczka brudu zostaje otoczona przez związki substancji powierzchniowo czynnej i zamknięta w miceli, tworzącej najczęściej kulistą formę, która finalnie zostaje usunięta w procesie płukania.

Micele tworzą warstwę graniczną, oddzielającą cząsteczki brudu od powierzchni poddawanej myciu. Proces mycia możemy przyśpieszyć poprzez mechaniczne pocieranie. Wytworzona wówczas piana utrzymuje cząsteczki brudu na powierzchni i zapobiega powtórnemu osadzeniu ich na materiale czyszczonym. Dlatego też mycie wstępne pojazdów odbywa się przy użyciu aktywnych pian, które de facto mają za zadanie zmiękczyć i odseparować cząsteczki brudu.
Aktywna piana, zmiękcza i odseparowuje cząsteczki brudu
Z kolei w myciu zasadniczym istotną rolę odgrywa szampon,
którego roztwór nakładany jest ręcznie za pomocą gąbki lub specjalnej rękawicy, co powoduje dodatkowe mechaniczne oderwanie zabrudzenia i odseparowanie go od powierzchni. Proces mycia przyspiesza również temperatura wody. W tym przypadku ma zastosowanie zasada mówiąca, że wzrost temperatury przyspiesza reakcję chemiczną czyli powstawanie micel.