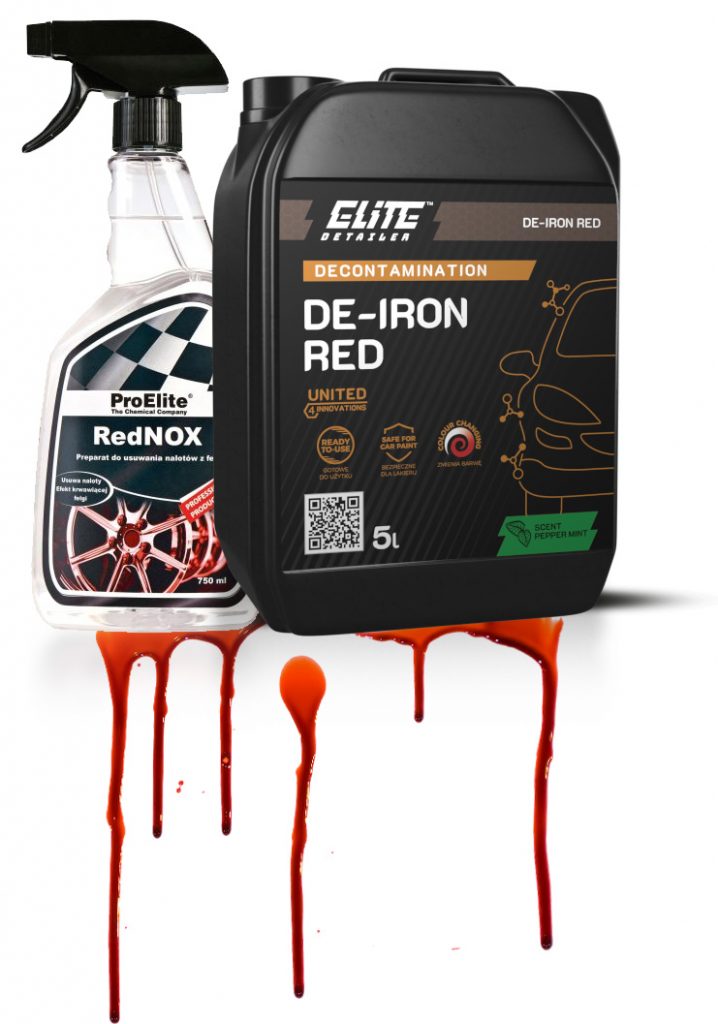 Co to jest deironizacja?
Słowo "deironizacja" to połączenie przedrostka "de" i słowa "iron" oznaczającego żelazo. Możemy je zatem zrozumieć jako usuwanie, oddzielanie żelaza.
Istnieje kilka metod deironizacji:
• czyszczenie mechaniczne,
• kwaśne trawienie,
• kompleksowanie
Pierwsze dwa sposoby – kwaśne trawienie i mechaniczne usuwanie żelaza – mogą powodować skutki uboczne w postaci nadżerki lub przetarcia powierzchni czyszczonej. Ostatnia zaś opiera się na zjawisku kompleksowania jonów żelaza, znajdujących się na czyszczonej powierzchni. Jej główną zaletą jest to, że nie wymaga posługiwania się roztworami o silnie żrących właściwościach, a nakład pracy w stosunku do mechanicznych metod jest niewspółmiernie mniejszy. "Pracują" za nas produkty chemiczne, więc możemy tylko patrzeć na efekty oraz cieszyć się z wyników.
Co to jest kompleksowanie?
Słowo kompleks może przywodzić na myśl np. kompleks budynków lub coś, co wzajemnie się uzupełnia, przyciąga i tworzy jedną całość. Owo przyciąganie można przełożyć na język chemiczny. Dwie cząsteczki łączą się w całość, jedną z nich jest żelazo, a drugą substancja chemiczna przystosowania do czyszczenia (kompleksowania). Nalot z żelaza (cząstka) znajdujący się na danej powierzchni, poddany zostaje działaniu środka kompleksującego, a następnie przechodzi z postaci stałej (nalot, cząsteczka) do postaci ciekłej, rozpuszczając się. Żelazo zostaje pochwycone przez cząsteczkę organiczną i zamknięte w "kleszczach", uniemożliwiając wydostanie się i ponowne osadzenie w innym miejscu. Tworzą się wówczas pierścienie pięcio- lub sześcio- członowe między metalem a cząsteczką.
Połączenia takiego typu są bardzo trwałe, dlatego procesowi towarzyszy zmiana koloru płynu w miejscu reakcji.
Dlaczego jest to tak skuteczny sposób na czyszczenie powierzchni? Wyobraźmy sobie następujący przykład. Tniemy metalowy pręt szlifierką kątową. Lecą iskry, które spadają na nowy samochód. Opiłki metalu wtapiają się w lakier, który staje się szary i szorstki pod ręką. W takiej sytuacji pomoże nam właśnie deironizacja.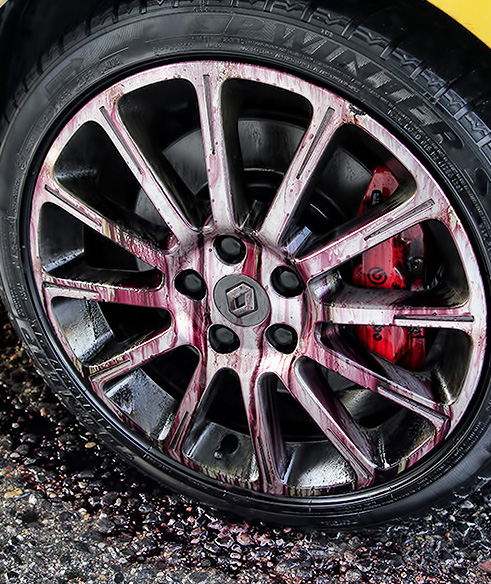 Czy ta metoda jest najlepsza? Porównajmy. Kwaśne trawienie – mocny kwas spowoduje wyżarcie opiłków żelaza. Czy będziemy mieć 100 proc. pewność, że nie zmatowiło on powierzchni? Nie. W efekcie możemy pozbyć się kropek, ale razem z połyskiem nowego lakieru. Podobnie przy czyszczeniu mechanicznym. Trzeci sposób to kompleksowanie za pomocą deironizera. Środek ten jest bezpieczny do lakierów. Powoli rozpuszcza opiłki żelaza, a następnie powoduje odklejenie ich od powierzchni. Pozostałości wystarczy zmyć samą wodą – łatwo, szybko i przyjemnie. A wszystko to dzięki właściwościom kompleksującym deironizera.