Zjawisko ścierania felg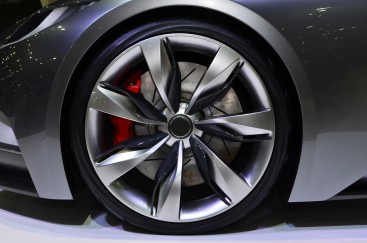 W codziennym użytkowaniu auta dochodzi do zanieczyszczenia całej jego powierzchni. Felgi są szczególnym miejscem ponieważ oprócz standardowego wachlarza zanieczyszczeń dochodzi jeszcze nalot z tarcz hamulcowych. Jest to specyficzny i wysoce niepożądany rodzaj zanieczyszczenia, który wpływa na żywotność felg. Powstałe w wyniku hamowania, czyli tarcia klocków hamulcowych o tarcze, mikroskopijne opiłki stali lub żeliwa działają jak materiał ścierny. Wiadomo, że materiał z jakiego wykonane są felgi czyli aluminium lub stal ma swoją pewną odporność ścierną, jednak ogromna ilość opiłków, znajdujących się dodatkowo na ich powierzchni, pod wpływem ruchu pojazdu i drgań wywoływanych hamowaniem powoduje ogromne ilości mikro uszkodzeń. Żeby to zobrazować wyobraźcie sobie szybę na którą rozsypujecie takie opiłki i poddajecie ją serii drgań. Ilość rys jaka powstanie będzie ogromna. Zwiększająca się liczba rys to bramy przez które na felgę zaczynają oddziaływać warunki atmosferyczne. Opiłki w porównaniu do brudu drogowego są paradoksalnie mało widoczne przez co możemy ulec złudzeniu, że felga jest czysta, a w rzeczywistości może zawierać ich ogromne ilości.

Jak sobie z tym radzić?

Tylko i wyłącznie poprzez systematyczne czyszczenie felg. Standardowe mycie nie wystarczy, ponieważ opiłki żelaza nie dadzą się tak po prostu usunąć. Z myślą o tym zadaniu powstał preparat do mycia felg – RedNOX. Formuła tego płynu doskonale radzi sobie z każdym rodzajem zabrudzenia jaki występuje na feldze, od brudu drogowego poczynając, a na tlenkach żelaza stanowiących główny budulec niesławnych opiłków kończąc. Składniki preparatu wchodzą w reakcję z tlenkami żelaza przez co możliwe staje się ich zneutralizowanie i zmycie z powierzchni felgi. Towarzyszy temu procesowi pojawienie się charakterystycznego ciemno czerwonego koloru, który sygnalizuje dopełnienie się wszystkich niezbędnych reakcji. Mamy czyste i ładne felgi, którymi możemy się długo cieszyć – oczywiście przy systematycznym myciu.