ISTNIEJE KILKA RÓŻNYCH SKAL, KTÓRYMI OKREŚLAMY STOPIEŃ TWARDOŚCI WODY, JEDNAK W POLSCE NAJPOPULARNIEJSZA JEST SKALA NIEMIECKA (DH):
WODA BARDZO MIĘKKA 0 – 3 dH,
WODA MIĘKKA 3 – 7 dH,
WODA ŚREDNIO TWARDA 8 – 14 dH,
WODA TWARDA 15 – 21 dH,
WODA BARDZO TWARDA 22+ dH.
Twardość wody dzielimy na dwie podstawowe kategorie. Pierwszą z nich jest twardość węglanowa, która pochodzi od wodorowęglanów, węglanów wapnia i magnezu występujących w wodzie. To właśnie ona odpowiada za powstawanie osadu np. w czajniku, ponieważ węglan wapnia i magnezu pod wpływem wysokiej temperatury zostają wytrącone i przybierają formę nierozpuszczalną. Drugą jest twardość niewęglanowa, której przyczyną są głównie występujące w wodzie chlorki, siarczany i azotany. Jest ona przyczyną trudnego do usunięcia osadu pojawiającego się na kranach, umywalkach, kabinach prysznicowych czy też na lakierze. W dużym natężeniu ten rodzaj twardości potrafi uszkodzić lakier, powodując tzw. wżery.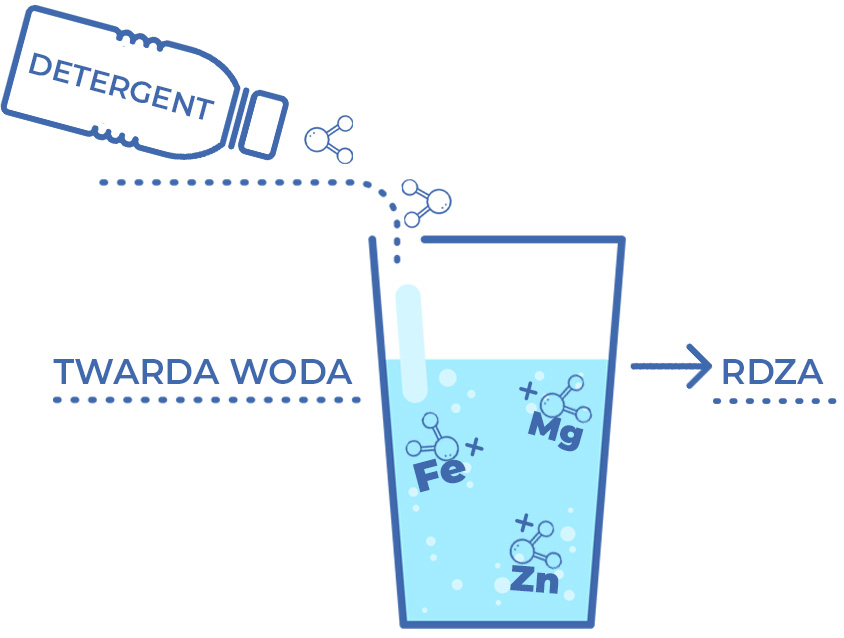 W twardej wodzie większość składników detergentów, szczególnie te które posiadają tzw. anionowe środki powierzchniowo czynne, przyczepia się do minerałów zawartych w wodzie (jonów żelaza, magnezu, cynku itp.), zamiast myć. Oznacza to, że aby uzyskać satysfakcjonujące efekty mycia potrzeba zużyć więcej detergentu i podwyższyć temperaturę, co również może powodować uszkodzenie powierzchni i generować niepotrzebne koszty. Często twarda woda zawiera cząstki żelaza. W połączeniu z wybielaczem zawierającym chlor wytwarza się wówczas tlenek żelaza i rdza, które mogą plamić i pozostawiać żółtawe naloty.
Twarda woda nie tylko wpływa negatywnie na mycie, ale również na… sprzęt myjący.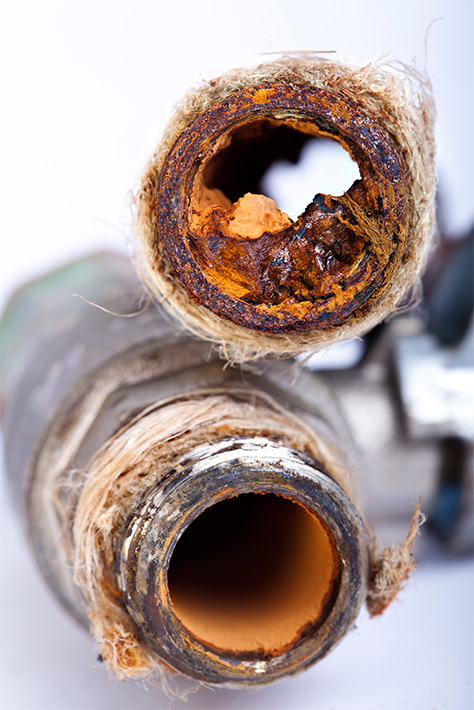 Wiązanie jonów m.in. wapnia i magnezu w dłuższej perspektywie powoduje zatkanie się rur (średnica staje się coraz mniejsza, aż w końcu następuje całkowita blokada przepływu), a złogi kamienia stanowią idealne środowisko rozwoju dla różnych bakterii. Może to doprowadzić do kumulowania się osadów w zbiornikach i przewodach myjni, powodując ich zapchanie, jak również nieestetyczne naloty na widocznych elementach urządzeń. Chropowaty osad mineralny skutkuje wczesnymi awariami oraz krótszym życiem sprzętu.

Ponadto, twarda woda nie nadaje się do opłukiwania auta, ponieważ powstające wówczas krople po wyschnięciu powodują nacieki wodne (water spoty), a zmieszanie jej z osuszaczami bądź hydrowoskami zmniejsza ich efektywność, a nawet może spowodować zmętnienie roztworu roboczego. Twarda woda sprawia, że aktywne piany będą w mniejszym stopniu się pieniły. W profesjonalnych studiach auto detailingowych do mycia stosuje się wodę demineralizowaną czyli pozbawioną obcych jonów przez wielokrotną destylację lub przez wymianę ich na jony wodorowe lub wodorotlenowe za pomocą dejonizatora.
Płyny do mycia pojazdów marki ProElite i Elite Detailer zawierają w swoich składach zaawansowane systemy neutralizacji jonów metali odpowiedzialnych z twardość wody. Dzięki temu ich skuteczność myjąca jest bardzo wysoka.