Fosfor to pierwiastek "życia". Większość procesów biologiczno-chemicznych nie może zaistnieć bez jego udziału. Żadne procesy życiowe nie byłyby bez niego możliwe. Kiedy nie występuje w glebie, to uznaje się ją za nieurodzajną. Fosfor tworzy z metalami sole nieorganiczne jak i organiczne, które są albo trudno rozpuszczalne w wodzie albo powodują maskowanie jonów, łącząc się w trwałe cząsteczki.
Tę właściwość fosforu wykorzystujemy do zmiękczania wody. Dodanie fosforanów do środków myjących powoduje, że w wodzie użytej do rozcieńczania detergentów wszystkie jony metali zostają wyłapane przez fosforany i zneutralizowane. Celem tego zabiegu jest powstrzymanie jonów przed wejściem w interakcję z cząsteczkami płynu, co osłabiłoby ich zdolności myjące. Możemy sobie zadać pytanie: dlaczego w takim razie fosfor NIE jest pierwiastkiem "życia" i bardziej nam szkodzi niż pomaga w przypadku określonych środków czyszczących?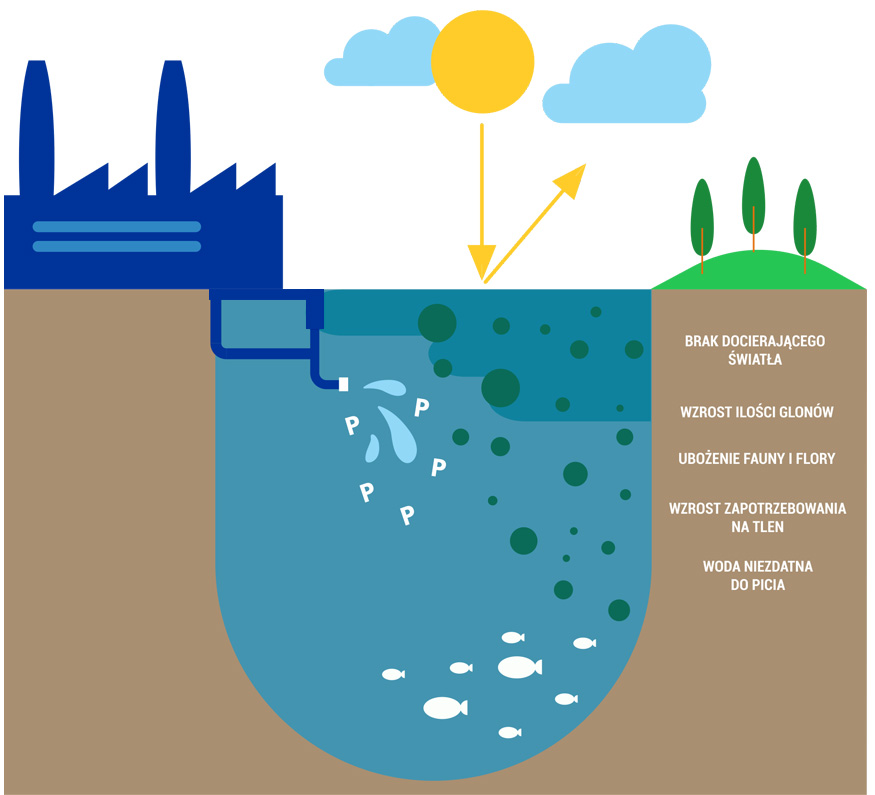 Gdy wylewamy fosfor i jego związki z wodą do ścieków powodujemy, że nagle pierwiastek zaczyna działać w całej swojej potędze. Obserwujemy wzrost ilości glonów w przyspieszonym i często trudnym do opanowania tempie. Światło zaczyna nie docierać do dna zbiornika wodnego, ubożeje fauna i flora w głębszych partiach. Z biegiem czasu na takim akwenie drastycznie wzrośnie zapotrzebowanie na tlen, który będzie zużywany do rozkładu gnijących glonów.
Woda z takich zbiorników przestaje nadawać się do spożycia
lub do rekreacji bez wieloetapowego procesu uzdatniania. Same związki fosforu bezpośrednio nie zagrażają naszemu życiu, ale ich działanie pośrednie jest w stanie zarówno nam jak i środowisku wyrządzić poważne straty. Dlatego mówimy stanowcze "nie" dla fosforanów w produktach do czyszczenia pojazdów.