Czy tak z pozoru prosta czynność jak mycie auta może przysporzyć nam kłopotu? Od czego zacząć, czy myć szczotką czy gąbką, jakich środków i kiedy użyć? Załóżmy, że sami myjemy swoje auto. Należy pamiętać aby zawsze zacząć od mycia wstępnego całej karoserii zaczynając oczywiście od góry pojazdu tzn. od dachu. Przed myciem należy przygotować preparat, którym "zmiękczymy brud" znajdujący się na karoserii. Po co to robimy? Brud drogowy to wiele substancji, które przyklejają się do karoserii podczas użytkowania auta, piach, kurz zmieszany ze spalinami, substancje smoliste (asfalt) czy olejowe, które podnoszone są z jezdni przez jadące samochody, sól drogowa, nie ma potrzeby wymieniać wszystkich, ponieważ jest ich bardzo dużo.
Mycie wstępne samochodu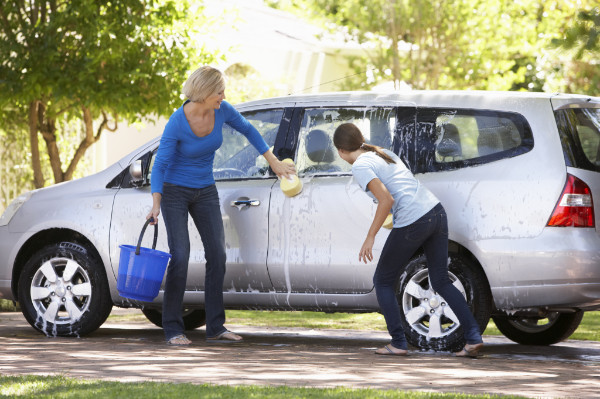 Do mycia wstępnego należy używać płynów do bezdotykowego mycia pojazdów np. ProClean 4, Nano Factor, które są tak skomponowane, że idealnie zmiękczają brud, są bezpieczne dla lakierów oraz pozwalają na szybkie usunięcie zanieczyszczeń z karoserii, oraz są bardzo wydajne. Po rozcieńczeniu środka zgodnie z opisem na etykiecie nanosimy go przy pomocy opryskiwacza lub pianownicy na samochód i po około minucie spłukujemy wodą pod ciśnieniem.
Mycie zasadnicze samochodu
Teraz możemy przystąpić do mycia zasadniczego używając delikatnego szamponu do mycia ręcznego. Przy pomocy gąbki lub specjalnej szczotki z miękkiego włosia myjemy auto stosując zasadę mycia od góry do dołu. Do mycia felg dobrze mieć w swoim zestawie oddzielną szczotkę i używać jej tylko w tym celu, unikniemy w ten sposób przenoszenia ekstremalnego brudu z kół na karoserię naszego auta a co za tym idzie nie spowodujemy porysowania lakieru. Po tych czynnościach bardzo dokładnie spłukujemy cały samochód czystą wodą.
Zabezpieczenie umytej karoserii
Do zabezpieczenia umytej karoserii stosujemy wosk Brillant NanoWax, który zapewnia nam ochronę oraz nabłyszcza lakier naszego auta. Wosk po rozcieńczeniu nanosimy podobnie jak płyn do mycia wstępnego za pomocą opryskiwacza i delikatnym strumieniem wody (pod niskim ciśnieniem) spłukujemy. Specjalną ściągaczką silikonową usuwamy pozostałą na aucie wodę i przy użyciu irchy wycieramy nasz samochód do sucha.
Jest kilka zasad o których zawsze musimy pamiętać. Nigdy nie nanosimy żadnej chemii na rozgrzaną karoserię. Zawsze stosujmy mycie wstępne, unikniemy w ten sposób porysowania lakieru (to piach i kurz, który przesuwamy gąbką lub szczotką rysuje lakier !!!) Jeżeli na karoserii są zabrudzenia typu smoła lub żywica z drzew używamy specjalistycznych preparatów np. Tar Remover. W ekstremalnych zabrudzeniach lepiej zasięgnąć porady niż próbować samemu co może spowodować trwałe uszkodzenie lakieru naszego auta.
Po skończonym myciu warto zadbać o akcesoria. Należy dobrze je wypłukać pod bieżącą czystą wodą, posłużą nam dłużej ale przede wszystkim nie uszkodzą mytej powierzchni.