Woskowanie
To ważny element mycia auta nie tylko pozostawia połysk na lakierze, ale również tworzy powłokę hydrofobową i wypiera resztki wody z mikro uszkodzeń na lakierze. Wosk nakładamy od góry pojazdu do dołu.
Spłukiwanie końcowe wodą zdemineralizowaną
To również bardzo ważny końcowy element procesu mycia. Woda zdemineralizowana dokładnie wypłukuje resztki chemii po myciu i daje gwarancje, że na lakierze nie pozostaną białe plamki oraz ułatwia osuszenie auta. Po zakończeniu mycia warto odjechać ze stanowiska i poświęcić jeszcze kilka minut na zabiegi pielęgnacyjne. Aby mieć pewność, że po myciu nie zostaną żadne zacieki możemy wytrzeć auto do sucha przy użyciu mikrofibry. Ładnie umyte auto to również czyste od wewnątrz szyby. Myjemy je dedykowanym płynem do szyb samochodowych np. NoverGlass.
Nigdy nie wycieramy lakieru ręcznikami papierowymi, aby nie porysować powierzchni!
Pielęgnacja opon
Ważnym elementem wpływającym na wygląd auta po myciu są również czarne i błyszczące opony. Aby uzyskać ten efekt i by był długotrwały nakładamy na opony dresing Black Gum. Robimy to przy pomocy gąbki winylowej znajdującej się w zestawie z produktem. Poza uzyskanym efektem pięknej czerni i połysku, Black Gum również konserwuje gumę i pozwala jej na dłuższe zachowanie odpowiedniej elastyczności.
Pielęgnacja karoserii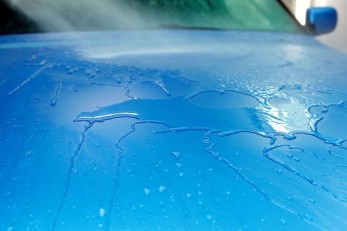 Często zdarza się że lakier naszego auta po umyciu, gdy jest mokry, wygląda ładnie i atrakcyjnie, jednak gdy wyschnie traci połysk i głębie koloru. Aby lakier zawsze wyglądał imponująco możemy użyć produktu z grupy Quick Detailerów, czyli płynnego wosku Gloss Max. Spryskujemy powierzchnie auta pamiętając, aby nie pracować w pełnym słońcu i na rozgrzanym lakierze, po czym wycieramy mikrofibrą do uzyskania połysku. Jest to czynność bardzo prosta i szybka, a pozwala nam osiągnąć w ciągu kilku minut efekt podobny do efektu polerowania auta woskiem twardym. Po tak przeprowadzonym procesie mycia możemy długo cieszyć się perfekcyjnym wyglądem naszego pojazdu, który będzie wyglądał jak po wizycie w profesjonalnym Auto Spa.
Bezpieczna chemia
Ważnym elementem mającym wpływ na dobre i bezpieczne mycie auta na myjni samoobsługowej jest jakość chemii używanej na myjni, z której korzystamy oraz jej bezpieczeństwo dla lakieru auta. Niestety jako klienci nie mamy na to wpływu, ale możemy zapytać właściciela myjni jakiej chemii używa, dla pewności, że jest to chemia profesjonalna i bezpieczna dla Twojego auta. Jeśli jest to chemia firmy ProElite, stosowana zgodnie z zaleceniami naszych Ekspertów, to możemy mieć pewność, że nie spotka nas żadna przykra niespodzianka w postaci, np. zniszczonego lakieru.