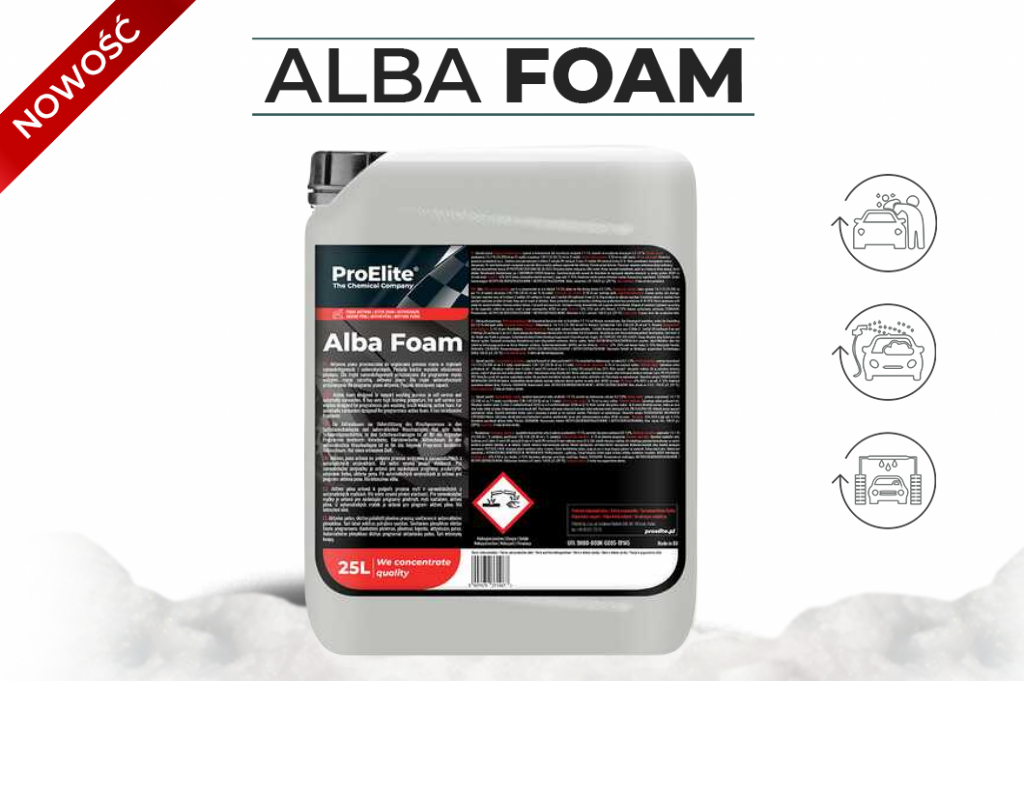 ALBA FOAM to nie kolejna zwykła piana zasadowa.
Stworzyliśmy alkaliczną pianę aktywną na miarę XXI wieku!
Podsumowanie wielu lat doświadczeń w tworzeniu chemii pozwoliło stworzyć produkt, który w 100% trafia w oczekiwania najbardziej wymagających odbiorców.
Jedyna na rynku piana zasadowa do myjni, która łączy w sobie 3 najważniejsze cechy:
świetne właściwości myjące – dzięki specjalnej recepturze tworzy bardzo gęstą, obfitą oraz długo utrzymującą się pianę! W związku z tym cząsteczki brudu są o wiele dokładniej absorbowane oraz penetrowane przez substancje czyszczące.
ekstremalna wydajność – Alba Foam została stworzona dla właścicieli myjni samoobsługowych, którzy oczekują bardzo wysokiej wydajności pianotwórczej preparatu. Zachowuje swoje właściwości (myjące i zapachowe) nawet przy rozcieńczeniu 1:8.
piękny zapach – to niespotykana cecha naszej piany. Pomimo jej zasadowego odczynu i świetnych właściwości myjących, udało nam się stworzyć preparat, który dodatkowo nieziemsko pachnie. Zapewni to dodatkowy komfort pracy dzięki pięknemu zapachowi piña colada.
Alba Foam to produkt kompletny – myje i pachnie, tworząc przy tym bogatą, gęstą i obfitą pianę. A co najważniejsze – przez swoją niespotykaną wydajność jest preparatem niezwykle ekonomicznym.
Przeznaczenie:
Myjnie samoobsługowe (programy: mycie wstępne, szczotka , pianownica – lanca pianowa),
Myjnie ręczne,
Studia detailingu,
Myjnie automatyczne,
Myjnie tunelowe.
Stosowanie – przykładowe stężenia/rozcieńczenia:
lanca pianowa 1:3-1:6 ,
oprysk wstępny 1:5 – 1: 8,
szczotka 1:7-1:10
dozowanie na pompkach lub dosatronach 0,4-0,7 %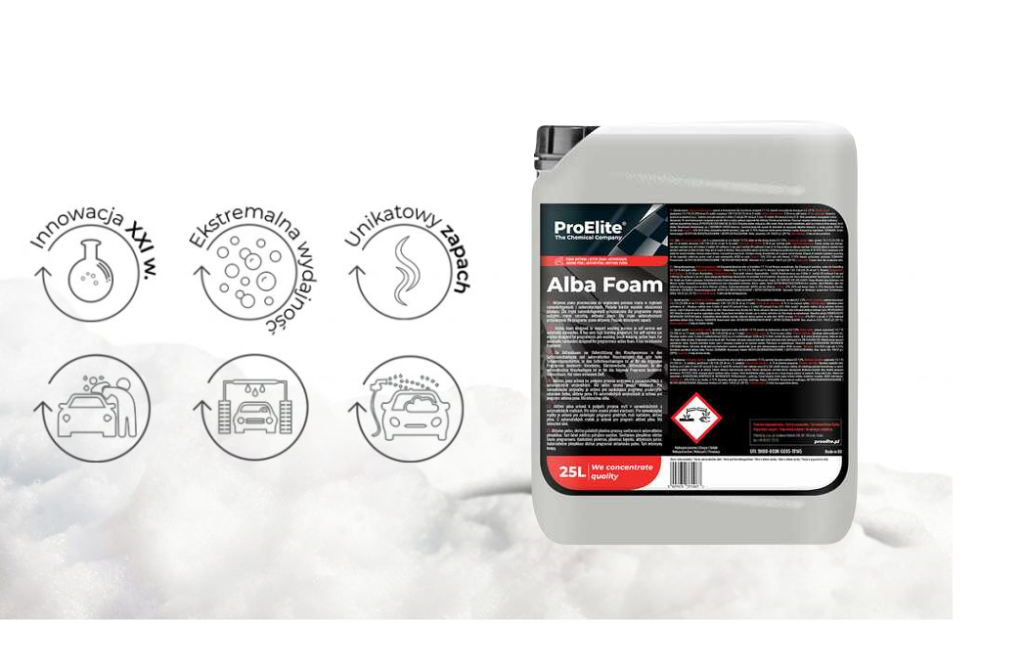 Zobacz koniecznie naszą Strefę wiedzy gdzie znajdziesz mnóstwo ciekawych artykułów dotyczących autodetailingu.